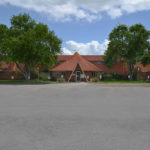 Our Clinic is actively seeking a family medicine physician to join our independent rural health clinic of multi-specialty physicians here in Port Lavaca, TX.
Port Lavaca Clinic Associates is the largest clinic in the area, has been in business for more than 50 years, and is a landmark within the community. We have our own in-house lab, but outsource radiology to the local hospital.  Our physicians own the clinic facility under a separate real estate corporation with a buy-in opportunity to the Practice and the Real Estate after two years.  PLCA is totally automated using an integrated EMR and practice management system. The EMR is fully certified and all of our physicians have started receiving the incentive payments for successful quality performance and patient care.
The local critical access hospital is about four blocks from our clinic with approximately 25 beds.  They have been known to provide start up assistance to physicians in certain specialties under a separate income guarantee agreement.  Here's a link to their website; you can get a visual of our physicians as well.  http://mmcportlavaca.com/ Their CEO is Jason Anglin and his telephone number is 361-552-0240. A recent MMC Market Development Study indicates this area is very much in need of more Family Medicine and Internal Medicine Physicians.
Port Lavaca is a smaller community on the Gulf Coast with about 12,000 population, and the nearest larger community (Victoria) is about 25 miles north. Corpus Christi is 80 miles west, and Houston 135 miles east.  Included is a link to Port Lavaca's website for your convenience:  http://www.city-data.com/city/Port-Lavaca-Texas.html.
If you are interested in talking with us, or touring our facility, just give me a call at 361-553-6567. We look forward to talking with you. Be sure to check out our website at http://portlavacaclinic.com
Internal Medicine
Leigh Ann Falcon (August 2009)
Pediatrics
Jeannine Griffin (November 1986)
Family Medicine
Timu Niratsuwan Kwi (September 2003)
John Wright (August 2007)
OB Care
Jewel Lincoln (August 2013) also Family Medicine
Nurse Practitioners
Shanna O'Donnell, FNP-C (2006)
Michael Caughron, FNP-C (2015)
Pamela J. Wiese, MBA
Practice Administrator
Port Lavaca Clinic Associates, PA
1200 N Virginia Street
Port Lavaca, TX 77979